From the moment we first meet with patients,
we will take care of them like a family with faith, hope, and love.
Wellness Hospital treats even the hearts of customers through experts treatment and specialized medical services.
1
Disease Prediction Test (Genetic Test)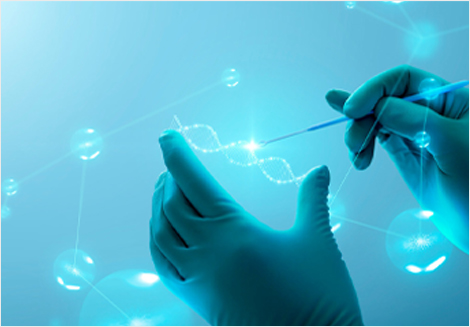 What is the disease Prediction Test (Genetic Test)?
The purpose of a disease prediction test is to predict disease susceptibility by analyzing genomes related to the occurrence of specific diseases such as chronic diseases or cancer. It is a personalized health program that predicts future disease risk through genome analysis and suggests health management directions based on the results.
When is the best time to take a disease predictive test (genetic test)?
Genes provide health information that you are born with and do not change throughout your life unless you are exposed to the risk of serious genetic mutations. Therefore, the same results can be obtained at any time in the life cycle. However, if the test is conducted early, it can be helpful for health management by quickly practicing individual lifestyle habits.
Why is it important?
Through genetic information related to disease occurrence, disease prevention is possible through the adjustment of appropriate lifestyle and environmental factors for each individual.
2
What information do you collect and analyze?
'It is better to prevent than to cure' is an old and classic adage, but they still provide useful insights.

Knowing the genetic characteristics of each individual is the basis for personalized health care.

Because being healthy throughout your lifespan is not about how long you live, which is already quite guaranteed, but rather about how healthy you live, customized healthcare through genome analysis is required for every person living in the modern era.
Item

Male

Female

Price

Genome
Analysis

Liver, Lung, Prostate Cancer

●

₩100,000

Thyroid, Stomach, Pancreatic Cancer

●

●

₩100,000

Ovarian, Breast, Cervical Cancer

●

₩100,000

Thyroid, Liver, Pancreatic Cancer

●

●

₩100,000

Dementia, Stroke, Parkinson's

●

●

₩100,000

Myocardial infarction, diabetes, blood pressure

●

●

₩100,000
scroll
| | | |
| --- | --- | --- |
| Item | Purpose | Price |
| Activated NK Cells | Immunity measurement | ₩50,000 |
| Apolipoprotein E genotype | Predicting Alzheimer's disease | ₩70,000 |
| Telomere | Tracking cell-aging | ₩300,000 |
scroll